Sajaad Mohamed Abu Abdallah spent two months in intensive care before succumbing to his wounds after bullets hit his uncle's car in the besieged Shia neighbourhood of Awamiyah
A three-year-old boy has died from injuries sustained from gunfire in the contested Saudi town of Awamiyah, the child's uncle and several activists have confirmed to The Independent.
Sajaad Mohamed Abu Abdallah, who would have turned four in October, passed away on Wednesday at nearby Dammam Maternity and Children's Hospital, where he had been cared for since a bullet hit him in the torso and right hand in the 12 June incident.
Sajaad's uncle – who asked not to be named – said that he, his sister, her five-year-old daughter and her son Sajaad tried to drive past Awamiyah police station, one of the main headquarters for the Saudi security services in the stand-off with armed Shia protesters, when the shooting occurred.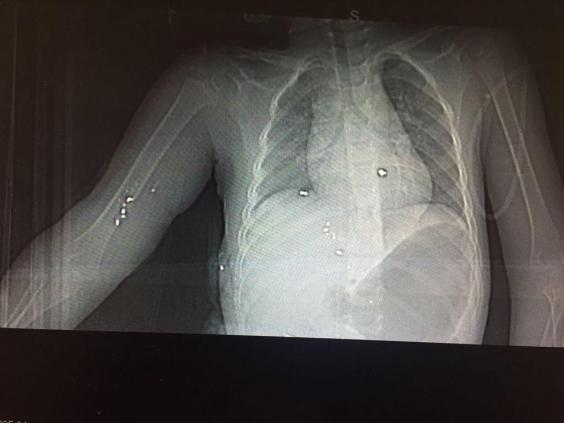 There was an armoured vehicle with a mounted gun turret outside the station, he said, and a road barrier which meant he had to take an exit to the right.
"So I slowed down and I heard shooting. When I heard this, I sped up. I was twisting and turning and then I heard shooting at the car. My sister and her five-year-old daughter were crying and Sajaad was silent. I looked back and saw he was injured… my sister cried and took him to the front seat," the man said. They then drove to the nearest medical centre.
Photographs taken by Sajaad's uncle showed that one bullet entered the car through the left rear door, where the boy was sitting. It hit the toddler in the right hand, then travelled through his waist and exited his body.
X-rays provided by the family showed that several fragments remained in the child's torso at the time of his death.
The boy's family, and pro-Awamiyah activists, say that the fatal wounds could not have been the result of anything other than the security forces' armed car aiming at civilians.
The Saudi government was contacted for comment on the allegation that its troops or police had caused the boy's death, but did not immediately respond.
The Bahrain Institute for Rights and Democracy (BIRD) and European-Saudi Organisation for Human Rights (ESOHR), among other organisations, are now calling for an independent investigation into the circumstances surrounding Sajaad's death.
At least one other child – a two-year-old boy – has been killed in the clashes between government forces and armed Shia protesters in Awamiyah, in Saudi Arabia's eastern Qatif province, since violence broke out on 10 May.
Locals say between 12-25 people have died in indiscriminate shelling and sniper fire which has completely flattened parts of the old al-Musawara neighbourhood. Riyadh has repeatedly denied such claims.
While there has been periodic violence, including car bombs and attacks on police in the region since 2011 Arab Spring calls for equality for the country's minority Shia citizens, a full-blown siege situation developed in May after attempts to evict residents from Awamiyah turned violent three months ago. The militarised conflict between the state and its citizens is "unprecendented", Human Rights Watch previously told The Independent.
Information from the contested district has been difficult to verify as it is heavily controlled by the Saudi state, but sources both inside and outside the city say that the humanitarian situation for Awamiyah's 30,000 residents has been untenable – people have been too afraid to leave their homes, and in many cases the electricity supply and water had been shut off.
Journalists were allowed into the area on a government-chaperoned trip for the first time in months on Wednesday, reporting back scenes of devastation more usual in a war zone than one of the wealthiest cities in the Gulf.
Rusted cars and half-destroyed buildings were peppered with bullet holes.
"The land which is mixed with the blood of martyrs gets sufficiently watered by God's light to defeat the mighty," a Reuters report said one piece of graffiti read.
The neighbourhood was deserted, suggesting the heaviest fighting may be over after most residents fled the town in the last week through two government-approved routes out. At least one explosion was heard later in the day.
In a statement provided to The Independent on 8 August, a spokesperson for the Saudi government said that "Due to its narrow streets, the al-Musawara neighbourhood became a haven for terrorists and suspicious activities ranging from terrorism and kidnapping to selling drugs and weapons," which is why it had been targeted for demolition and redevelopment.
Locals had been given ample notice and compensation for moving, the authorities said although several local accounts contest these claims.
While some accommodation in nearby towns has been provided, it has been criticised as not nearly enough to cope with demand.
There are reportedly huge discrepancies in what is on offer. Pictures shared by activists and a Berlin-based Saudi lawyer attempting to help those moved out their homes show cramped and very dirty apartments meant to house large families.
While people living nearby initially opened their doors to those fleeing Awamiyah, a 3 July letter reportedly from the Ministry of Social Development shared with The Independent ordered local charities to stop providing shelter or other help for those displaced because the "security sensitive operation" lay outside their geographical remit.
In April a UN panel condemned the Saudi government's redevelopment plans, accusing the authorities of attempting to forcibly remove residents from Awamiyah without offering adequate resettlement options in an operation which threatens the "historical and cultural heritage of the town with irreparable harm".
Esam Abdullatef Almulla, the region's acting mayor, dismissed the UN's concerns on Wednesday, telling reporters: "We informed everyone in the community there would be development stages for several areas in Qatif, starting with Musawara."
"Of course, we didn't get approval from everyone, but most Qatif and Awamiya residents wanted to see their neighbourhoods developed," he added.